A week in the life of a 4th year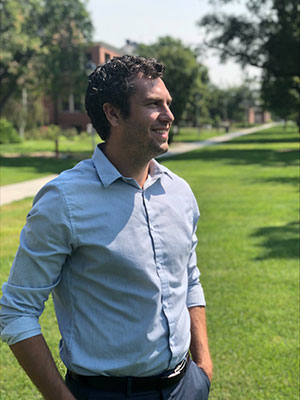 Nick Hovda, MD
Clinical Rotations
Monday: VA Outpatient Clinic
Tuesday: VA Chief Resident Office Hours / Research
Wednesday: FMRI Continuity Clinic
Thursday: Didactics and Supervision
Friday: FMRI Psychotherapy/Research
Monday:
This is my busiest patient care day of the week! I have VA outpatient continuity clinic in the morning and in the afternoon. I've tailored my schedule to have a block of seeing patients from 8-11AM, then a longer break before seeing patients again from 1:30-3:30PM before staffing with my attending supervisor from 3:30-4:30PM. We get 60 minutes for new patient visits and 30 minutes to see our follow-up patients. We also allow 60 minutes for psychotherapy appointments. Now that I am a PGY-4, I have up to 10, mostly follow-up visits, per day for a total of 5 hours of clinical time. Other days, I'll typically have 1-2 new patients and the rest will be follow-up visits. We serve a lot of veterans in Idaho (some are older, but a large percentage are in their 20s and 30s actually), so our VA continuity clinics are nearly always full.
Tuesday:
Chief time in morning —As Administrative, Call, and Scheduling Chief Resident of AY 2021-2022, my Tuesday mornings are dedicated to chief duties. I have the pleasure of sharing these hours with my colleague, good friend, and co-chief Jasdeep Gill, MD, MS, and although our roles differ, we often collaborate. One of our projects this year was to create a Wellness Committee and a Program Improvement Committee (PIC). As leader of the PIC, I meet with residents monthly to discuss specific ways we can improve our residency program—we're currently working on expanding both elective rotation and moonlighting opportunities. Our program director, Kirsten Aaland, MD, has been highly supportive of this venture. It feels great to have some say in the education we receive, and I really appreciate residents from every class joining in the committee.
Wednesday:
I have continuity clinic at Family Medicine Residency of Idaho (FMRI), now known as Full Circle Health, in the morning (we have the option of choosing FCH or Boise State University as R3s and can do either or both as R4s). This clinic serves a segment of the population that is particularly underserved—many of the patients have Medicaid, some are homeless, and there is a large refugee population we serve from many countries as well.
Thursday:
Didactics start at 9 a.m. with C-group. Residents meet in C-Group with two group leaders. These two kind therapists maintain confidentiality by limiting their interaction with the residency outside of the group. This is one of few opportunities for the residents to all get together and talk about anything and everything we want, all off the record! Next, we have Psychotherapy seminar, a 1.5-hour didactic session specifically focused on teaching/learning psychotherapy each week. We receive training in many therapy modalities.  Lunch is provided on Thursdays (often Greek takeout, Chipotle, or Pizza, but it varies). Noon conferences rotate between Psychiatry Grand Rounds, Interdisciplinary Case Conference Presentations, Journal Club and Business Meetings. We then have a final didactic block from 1:15-3:30 p.m. where we learn about various topics taught by psychiatrists, psychologists, Mental Health pharmacists. From 3:45-4:45 p.m. I have weekly psychotherapy supervision to discuss my psychotherapy patient cases I've had over the past week.
Friday:
I chose to have a psychotherapy elective Friday mornings, so I see 3 psychotherapy patients (50 minute visits) back-to-back. Currently, I've taken a strong interest in one particular form of therapy (ISTDP-Intensive Short Term Psychodynamic Therapy) after watching my attending at FMRI (Ryan Shackelford, MD) do this type of therapy with patients with impressive results.
In the afternoon, I have another research elective block. I've been lucky enough to be able to perform research involving ketamine. At FMRI, my attending and I have administrated ketamine-assisted psychotherapy for patients with depression and anxiety. I'm currently focused on writing a systematic review on the safety of sub-anesthetic doses of ketamine (i.e. for depression) in medical/psychiatric settings. Our local research director, Will Frizzell, MD, my attending/PI and program leadership have all been highly supportive of me pursuing my goals of performing psychedelic research as a resident (and would likely support you in pursuing research of your specific interest if you matched here).